Mastering Nepali Board Game of Bagh Chal with self-learning AI
This blog was originally posted on the Programiz Blog on May 19, 2020, and is intended for the general audience. It can be accessed here.
People have long dreamed of creating machines that can think and decide for themselves. There are countless Sci-Fi books and movies that exploit (and sometimes over-hype) the term Artificial Intelligence. This peculiar trait of the human mind—to imagine something well before it comes into existence—has led to many inventions and discoveries. Just a decade ago, the research on Artificial Intelligence was limited to only a few candidates pursuing higher degrees in Universities or big companies. However, the increase in computational power and data availability over the past few years has made it possible for anyone with a decent computer to get started with Machine Learning and Artificial Intelligence. This blog discusses one such personal project that I started working on almost a year ago. It uses state-of-the-art methods in the deep reinforcement learning paradigm to master the traditional Nepali board game of Bagh Chal through self-play.
Instead of diving straight into the project, I want to introduce Artificial Intelligence and some of the relevant concepts first. If you would like to skip these upcoming sections, directly refer to the Bagh Chal AI Project section.
---
Renaissance of Artificial Intelligence
When programmable computers were first created, they rapidly overtook humans in solving problems that could be described by a list of formal mathematical rules, such as mathematical computations. The main obstacle to computers and artificial intelligence proved to be the tasks that are easy for human beings but difficult to formalize as a set of mathematical rules. The tasks such as recognizing spoken words or differentiating objects in images require intuition and do not translate to simple mathematical rules.
We generally do not give our brain enough credit and are unaware of the extent to which our intuition plays a role in our everyday thinking process. To that, I want to start the blog with a perfect example that Andrej Karpathy gave in his blog back in 2012 that holds to this day.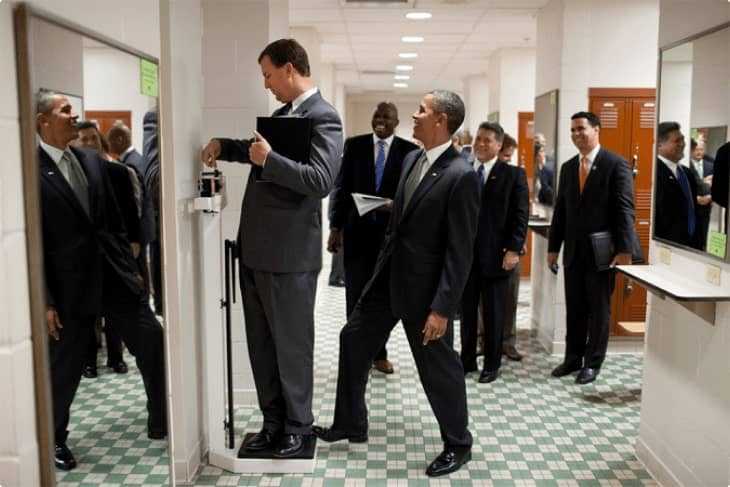 The above picture is funny.
What does our brain go through within fractions of seconds to comprehend this image? What would it take for a computer to understand this image as you do?
We recognize it is an image of a number of people in a hallway.
We recognize that there are 3 mirrors, so some are "fake" replicas of people from different viewpoints.
We recognize Obama from the few pixels that make up his face.
We recognize from a few pixels and the posture of the man that he is standing on a scale.
We recognize that Obama has his foot on top of the scale (3D viewpoint) from a 2D image.
We know how physics works; pressing on the scale applies force to it and will hence over-estimate the person's weight.
We deduce from the person's pose that he is unaware of this and further infer how the scene is about to unfold. He might be confused after seeing the reading exceeding his expectation.
We perceive the state of mind of people in the back and their view of the person's state of mind. We understand why they find the person's imminent confusion funny.
The fact that the perpetrator here was the president maybe makes it even funnier. We understand that people in his position aren't usually expected to undertake these actions.
This list could go on and on. The mind-boggling fact is that we make all these inferences just by a simple glance at this 2D array of RGB values. Meanwhile, even the strongest supercomputers would not even come close to achieving this feat using today's state-of-the-art techniques in Computer Vision.
For the sake of this blog, let's start with something more straightforward. Imagine that we are given a task to identify handwritten digits in a 28x28 image. How would we go about solving this problem? It might sound ridiculously easy at the start considering that even a small child introduced to numbers can get this correct almost every time. Even though this example is used as the typical "Hello, World!" program equivalent for people learning Artificial Intelligence, the solution to this problem is not as trivial as it first seems.
One obvious classical approach would be to use handcrafted rules and heuristics on the shape of strokes to distinguish the digits. However, due to the variability of handwriting, it leads to a proliferation of rules and exceptions giving poor results. Some sample variants of the handwritten digits are shown in the following image.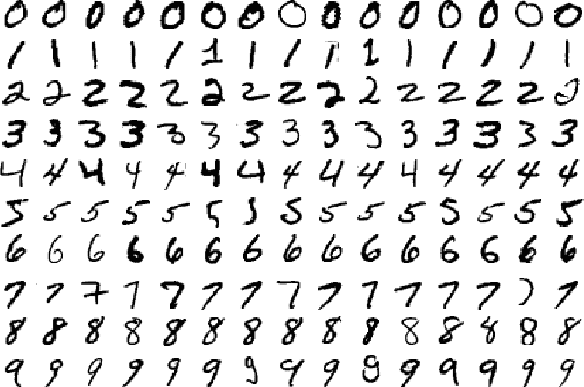 So, how would we tackle this problem using Machine Learning?
Before we start talking about how to solve this problem, let's first understand how machine learning differs from the traditional programming or algorithmic methods. Machine learning refers to the concept that allows computers to learn from examples and experiences rather than being explicitly programmed.
Basically, we trade-off the hard-coded rules in the program for massive amounts of data. Mathematical tools in linear algebra, calculus, and statistics are cleverly used to find patterns in the data and construct a model that is then used for prediction. The model is trained through an iterative process where its predictive accuracy is evaluated and improved. This is done by using an optimizer to minimize a loss function that tells us how bad the model is doing. As a result of this training process, the model becomes proficient in accurately predicting outcomes for data it has not encountered before.
For instance, instead of using handcrafted rules to identify handwritten digits, we can show the computer lots of examples of how each digit looks like. It can then use information from the example data and try to fit them to a model. Over time, it learns to generalize over the shape of each digit.
The subject of creating a model, evaluating its performance, and improving it is a topic for another blog. However, let's have a glance at the sub-fields of machine learning.
---
The Sub-Fields of Machine Learning
Supervised Learning
Supervised learning is a type of machine learning in which the learning is done from the data having input and output pairs. The goal is to create a model that learns to map from the input values to the output.
It is called supervised learning because we know beforehand what the correct answers are. The goal of the machine learning algorithm is to learn the relationship between each input value to the output value by training on a given dataset. In doing so, the model should neither prioritize specific training data nor generalize too much. To avoid this, a larger training dataset is preferred and the model is tested using input values that the model has never seen before (test dataset).
This is better understood with an example. Suppose you're given the following dataset:
Let's put your admirable brain to use, shall we? Can you construct a mental model to find the function that maps x to y?
After quick speculation, you might have stumbled upon the function y = x2 that fits the dataset perfectly.
Let's see how our intuition could have been altered if we had access to only a subset of the dataset:
Here, both y = 2x and y = x2 are equally plausible answers. But we know that the actual answer is y = x2, and y = 2x is considered to be the underfit model due to less training samples. Our model would predict y = 6 for x = 3 while the actual answer is y = 9.
Let's look at some visualizations to clearly understand these concepts.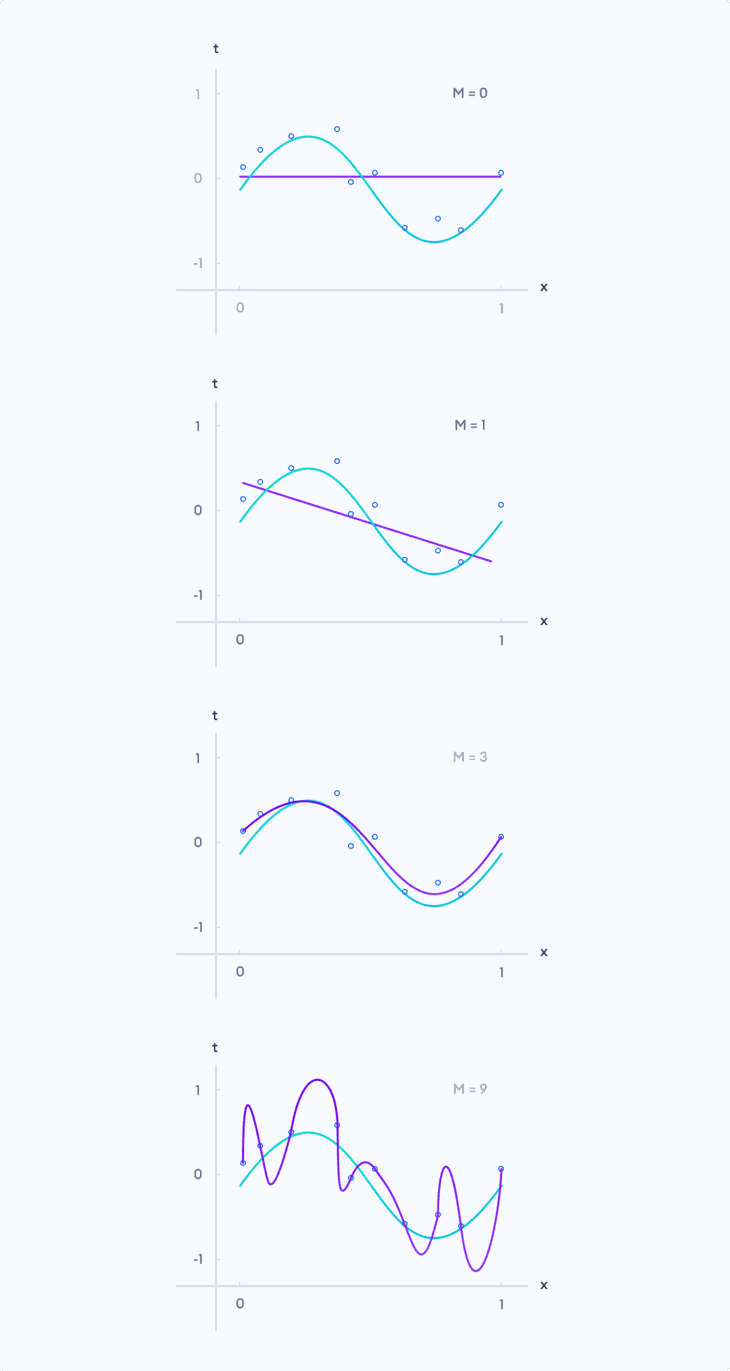 Here, the blue line shows the actual function and the purple line shows the prediction of the model. The blue circles represent the training set.
We can see that the last model correctly predicts all the training data (all points pass through the purple line). However, this model is said to be an overfit model (too specific to the training set) and it performs badly on the test set. Similarly, the first two models are said to be underfit models (too much generalization).
The third model is the best among these models even though it has a lesser accuracy than the overfitted model. The model can further be improved by using more training data as shown below.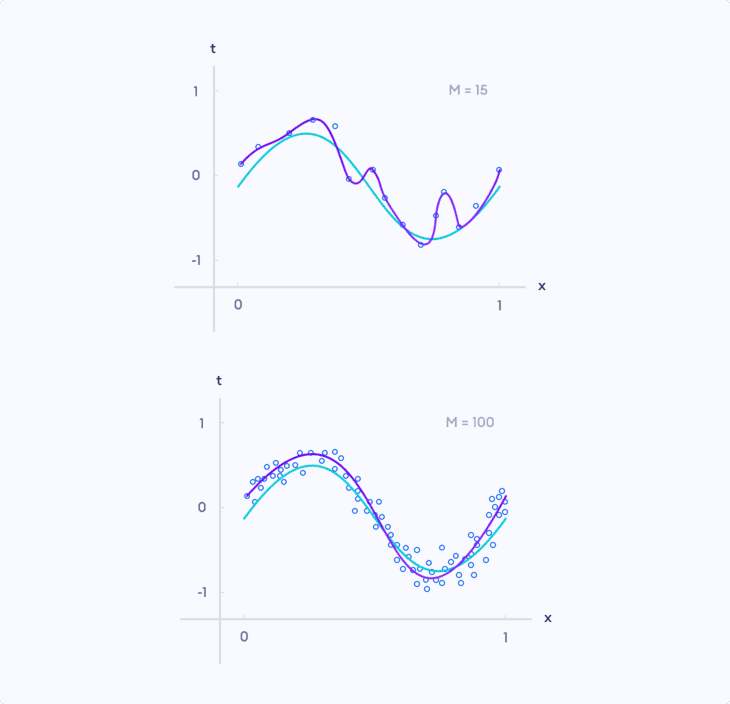 Supervised learning can further be divided into classification and regression.
Classification problems are related to making probabilistic estimates on classifying the input data into one of many categories. Identifying handwritten digits falls under this category.
Regression problems are related to predicting real value output in continuous output space. The above problem of finding the best-fit polynomial to predict output to its other input values falls under this category.
---
Unsupervised Learning
Unsupervised learning is a type of machine learning in which the learning algorithm does not have any labels. Instead, the goal of unsupervised learning is to find the hidden structure in the input data itself and learn its features.
Some types of unsupervised learning include clustering, dimensionality reduction, and generative models.
Clustering is the method by which the input data is organized into clusters based on the similarity on some of their features and their dissimilarity with other clusters, despite having no labels.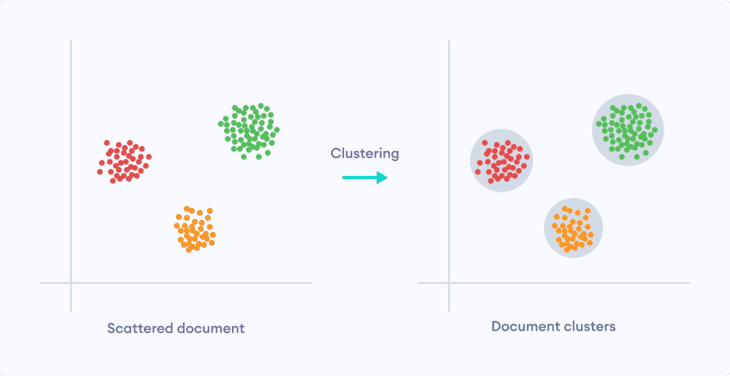 Dimensionality reduction is used to convert a set of data in higher dimensions to lower dimensions. They can remove redundant data and only preserve the most important features. This pre-processing technique can reduce a lot of computational expenses and make the model run a lot faster.
The new unsupervised deep learning field has given rise to autoencoders. Autoencoders use deep neural networks to map input data back to themselves. The twist is that the model has a bottleneck as a hidden layer. So, it learns to represent the input in a smaller amount of data (compressed form).